It's a card game?
Yes, this is a card game in which everyone is trying to prove they had the best tenure as Pope.
"The most entertaining, easy to learn game that deals with the pressing issue of how to deal with a booming Pope population."


- Dylan Fries (Co-Director of the feature-length Documentary, Men with Beards and owner of Electric Monk Media).
The Cards
PRIDE : Something great you did.
SHAME : Something you would not want to admit you did.
FLIP : Once you play this card you flip a coin and you risk getting either PRIDE or SHAME points from it.
EVENT : They can steal, copy, or remove cards, as well as either enhance or detract their Point value.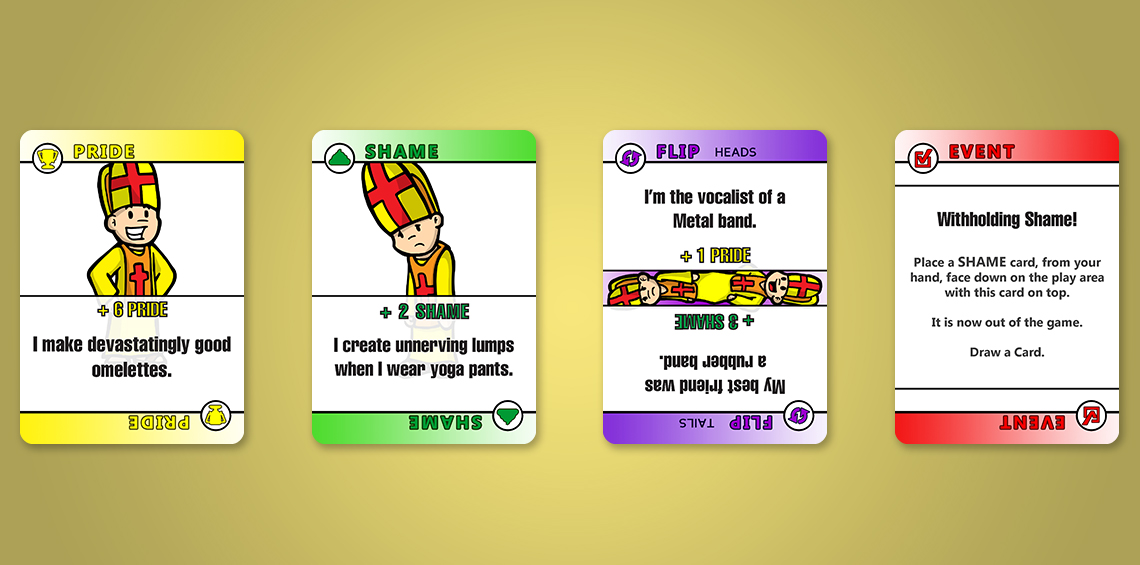 Be sure to read the cards closely, because a few of them have special bonus acts you can do to earn extra points (for example, making beverages for everyone, or creating a cool new dance!) But what's a game without a bit of healthy competition?
Gameplay
Each player has four cards in their hand. Each turn you draw a card and then play a card. Then you just follow the rules written on the cards themselves.The winner is decided by whoever has the highest PRIDE score.